Infographic: Making Sense of March Madness
By Inspira Marketing
March 14, 2019
Though not quite as ubiquitous as the NBA or NCAA football, NCAA basketball has a large following in the U.S., with over 58% of the population interested in the March Madness tournament. Whether it's at the games, at the bar, or at home on the television, brands will be looking to reach these consumers. In order to get the most out their investments, though, brands must have a deep understanding of who these fans really are, what they love, and where they can be reached.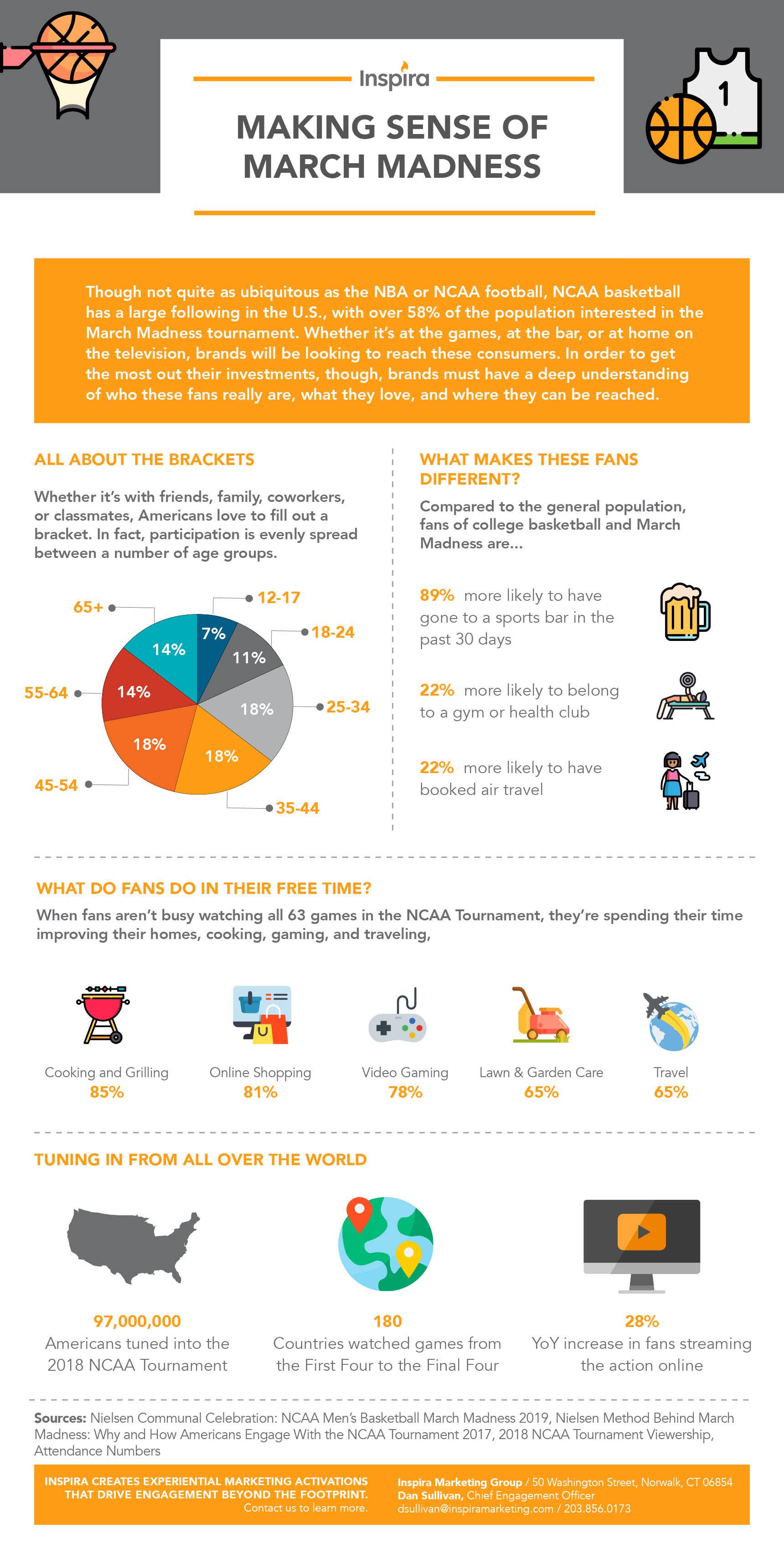 Here are four things you need to know about March Madness and its fans:
All About the Brackets
12-17 7%
18-24 11%
25-34 18%
35-44 18%
45-54 18%
55-64 14%
65+ 14%
What Makes These Fans Different?
89% more likely to have gone to a sports bar in the past 30 days
22% more likely to belong to a gym or health club
22% more likely to have booked air travel
What Do Fans Do In Their Free Time?
85% Cooking and Grilling
81% Online Shopping
78% Video Gaming
65% Lawn/Garden Care
65% Travel
Tuning In From All Over the World
97,000,000 Americans tuned into the 2018 NCAA Tournament
180 Countries watched games from the First Four to the Final Four
28% YoY increase in fans streaming the action online
Is your brand looking to reach college basketball fans during the NCAA Tournament? Contact us today to learn how our suite of experiential-led services can help you build long-lasting connections with fans across the world.
---
Subscribe for more
Inspira news, insights, and white papers
"*" indicates required fields