4 Top Takeaways from CES 2019
By Inspira Marketing
May 20, 2019
Each year, hundreds of thousands of tech-lovers and tech brands from around the world descend upon Las Vegas for the Consumer Electronics Show (CES). The annual event is a global stage on which next-generation consumer technologies are introduced to the marketplace. While some of these innovations are as simple as a voice-powered alarm clock for your bedroom, others are audacious, boundary-pushing technologies that could very well change the way the world works. With that, let's take a look at some of the most innovative products that were introduced this year and evaluate what they mean for us going forward.
TV Tech Taking the Next Step
Though many consumers have just upgraded to 4K televisions in their households, that hasn't stopped the industry from seeking out the next big thing. In fact, one of the biggest trends at this year's CES was the introduction of 8K television. Most notably, TCL introduced a set of 75-inch-and-larger 8K TVs that run Roku's operating system. Launching later in 2019, they will also have powerful far-field microphones that allow you to talk to your TV from a distance, making it easier than ever to manage your home entertainment system.
Foldable Phones
When flip-phones went by the wayside at the dawn of the iPhone, you probably thought that was it for foldable phones. Yet, times have changed, and CES showed us that foldable phones are very much on the re-entering the … fold. While Samsung announced that the debut of its foldable phone would come in February, a lesser-known company called Royole led the charge at CES. Its FlexPai Android phone has a screen that you can fold at any angle, allowing you to expand it for tablet use, fold it into a phone, and anything in between. While it is only available in China at this time, it remains a trend to watch for as we seek to carry fewer devices that have greater overall capabilities.
The Royole FlexPai Foldable Phone
Not Your Average Automobiles
As traffic in metropolitan areas worsens and environmental concerns linger, automotive manufacturers are forced to innovate. And, at this year's CES, we were introduced to a number of innovations that may hit the roads (and skies) in the not-too-distant future. Though mostly known for its helicopters, Bell released plans for the Nexus Flying Car. This vehicle uses six rotors to fly up to four people (plus a pilot) as far as 150 miles at 150 mph. Through a partnership with Uber, Bell hopes to get consumers in the air by the mid 2020s.
Additionally, Hyundai introduced the Elevate Walking Car, a vehicle with wheel-tipped legs that can venture through rough terrain, hop over walls as tall as five feet, and drive like a regular car on even terrain. The brands envisions the vehicle as a first responder in disaster situations.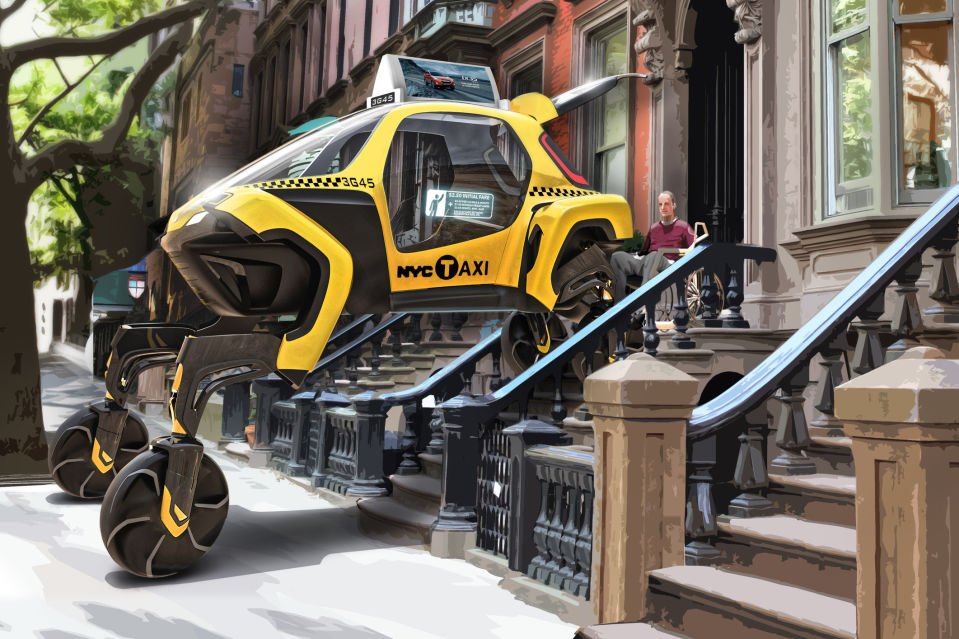 The Hyundai Elevate Walking Car
Google's Voice Push
Of course, no tech event is complete without the presence of Google. The industry giant was out in full force, most notably placing its efforts behind the Google Assistant voice technology. In an extravagant experiential activation outside of the Las Vegas Convention Center, Google took consumers on a theme park ride akin to Disney's "It's a Small World." During the ride, consumers were taken on a journey through a hectic day, with Google Assistant helping to automate and complete tasks that might have otherwise gone unaccomplished. For more on the activation, head to CNET.
Looking to bring your emerging technology to market through the power of live events? Contact us today to learn how our suite of experiential marketing services can generate awareness, word-of-mouth, and sales for your brand.
---
Subscribe for more
Inspira news, insights, and white papers
"*" indicates required fields