Infographic: Accelerating the Auto Buyer Journey
By Inspira Marketing
September 10, 2018
Years ago, consumers would visit an average of five auto dealerships before purchasing a car. Today, they visit an average of two. Even before consumers sit in the driver's seat, they've already spent hours researching auto brands online. And, by the time they reach the dealer, most have already decided on a brand, or more specifically, a model.
While digital engagement is unquestionably part of the buying experience, when marketers rely on digital alone, they are missing an opportunity to build a relationship with the consumer from the onset. Experiential marketing has the potential to increase lead generation, build brand advocacy and sales, and can make customers feel more valued.
Here, we look at the auto buyer to understand their mindset and discover how brand experiences can help you get closer to them when it matters most.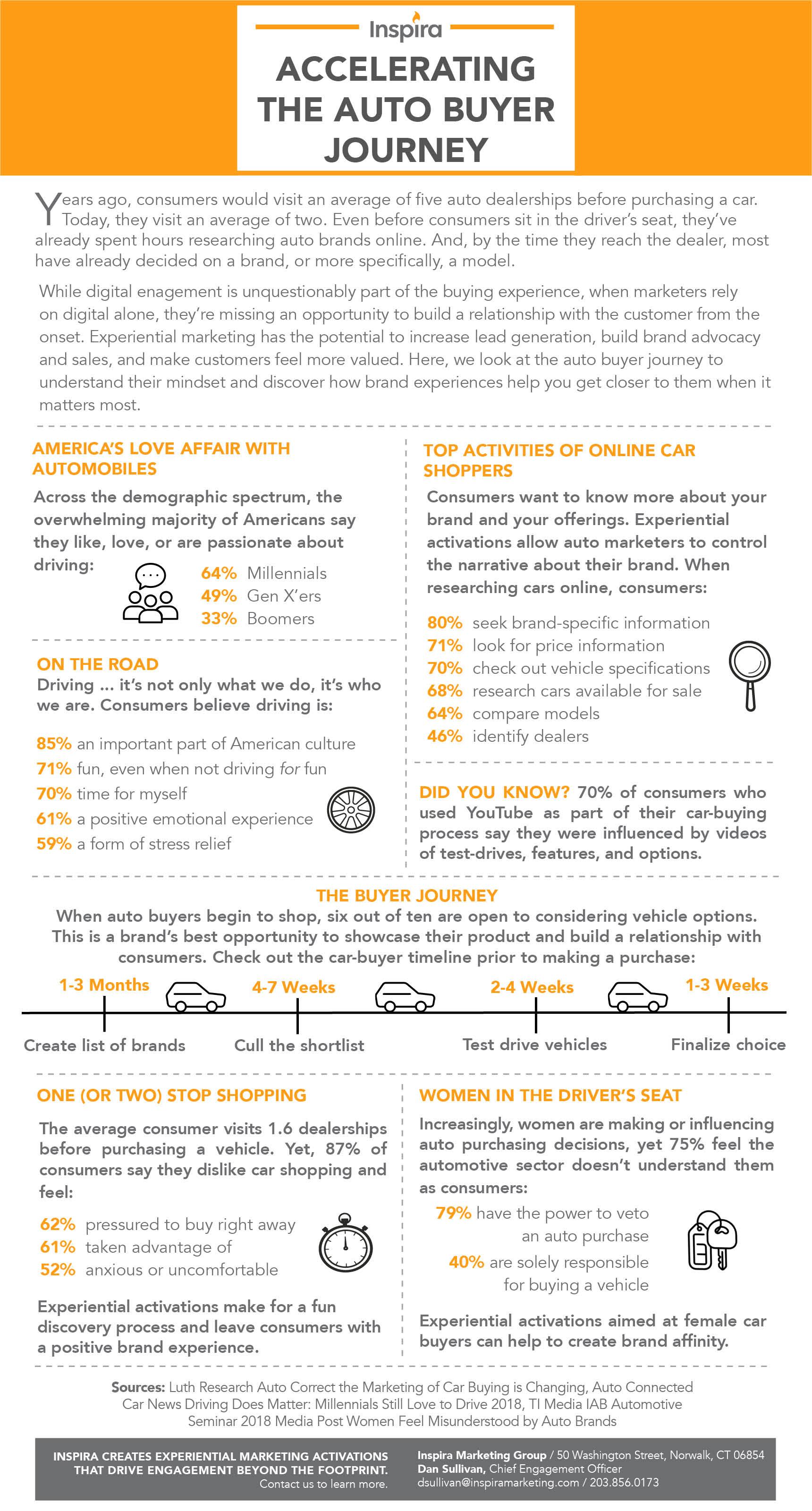 Here are four facts about the auto buyer journey to consider when creating your next experiential marketing campaign.
America's Love Affair with Automobiles
Across the demographic spectrum, the overwhelming majority of Americans say they like, love, or are passionate about driving.
Millennials 81%
Gen X'ers 78%
Boomers 79%
On the Road
Driving…it's not only what we do, it's who we are.
Consumers believe driving is:
85% an important part of American culture
71% fun, even when they're not driving for fun
70% time for myself
61% a positive emotional experience
59% a form of stress relief
The Buyer Journey
When auto buyers first begin to shop, six out of ten are open to considering vehicle options. This is a brand's best opportunity to showcase their product and build a relationship with consumers.
Car-Buyer Timeline
Consumers shop around long before they buy. Here's what they do prior to purchase.
1-3 months develop a list of preferred brands
4-7 weeks cull the shortlist
2-4 weeks test drive vehicles
1-3 weeks finalize automobile choice
Experiential marketing helps brands build awareness even before the buying process begins.
Top Activities of Online Car Shoppers
Consumers want to know more about your brand and your offerings, and experiential activations allow auto marketers to control the narrative about their brand.
When researching cars online, consumers:
80% seek brand-specific information
71% look for price information
70% check out vehicle specifications
68% research cars available for sale
64% compare models
46% identify dealers
Contact us today to learn how our team can help you reach automotive enthusiasts with our suite of experiential marketing services.
---
Subscribe for more
Inspira news, insights, and white papers
"*" indicates required fields