Infographic: Do Consumers Want a Digital Detox?
By Inspira Marketing
April 8, 2019
Since the establishment of the internet nearly 30 years ago, our world has completely transformed. The rise of e-commerce has helped Amazon grow from a small online bookstore to the world's biggest and most influential retailer, and social media giants like Facebook, Instagram, and Twitter have become engrained in our daily lives. Still, though, technological advancements don't come without their challenges, and consumers across the globe are speaking up. In this infographic, we take a look at how consumers feel about the digital world and how brands can appeal to these sentiments.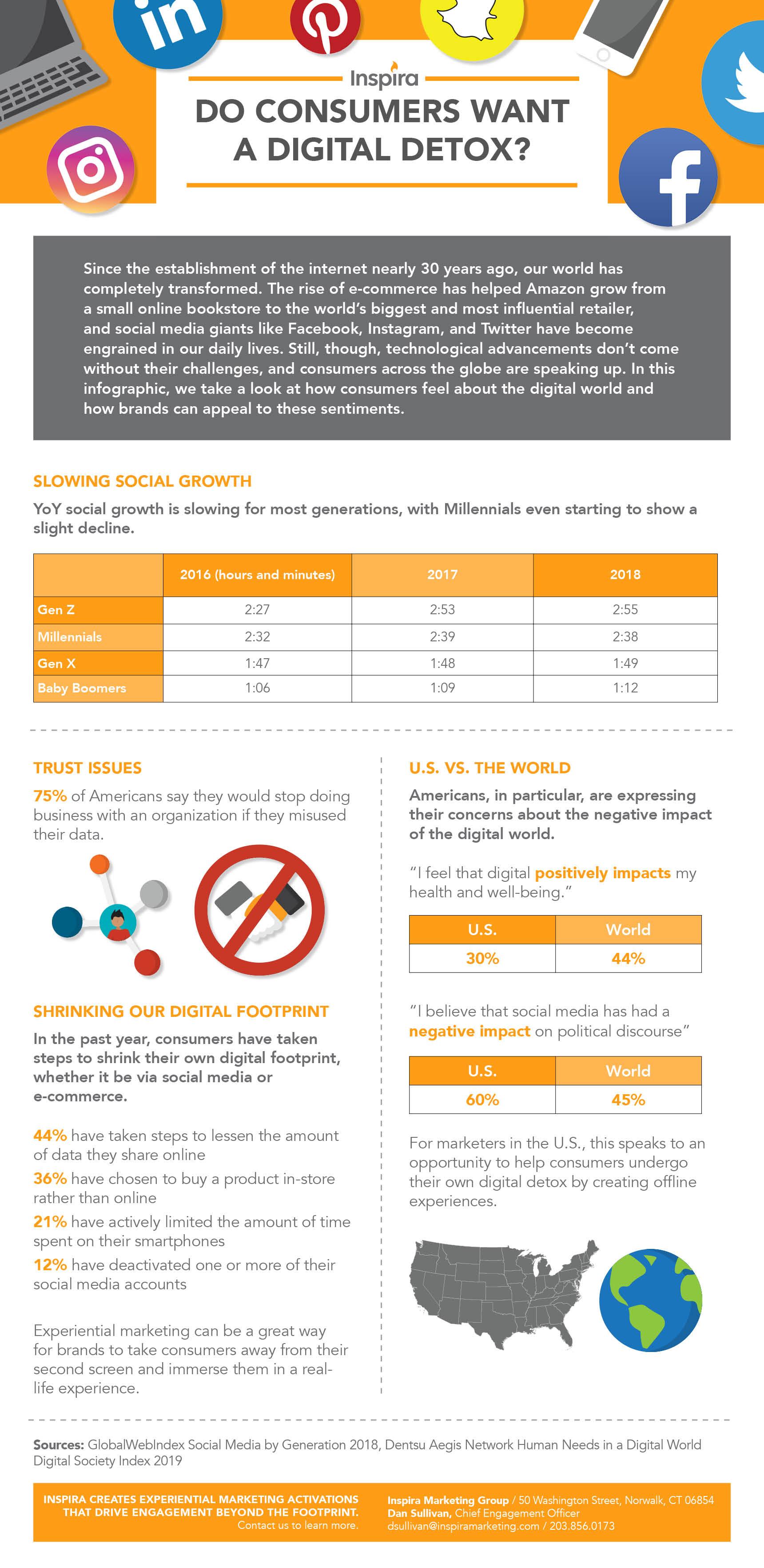 Here are four facts you need to know about consumers' changing perception of social:
Slowing Social Growth
YoY social growth is slowing for most generations, with Millennials even starting to show a slight decline (time in hours and minutes).
2016 2017 2018

Gen Z 2:27 – 2:53 – 2:55
Millennials 2:32 – 2:39 – 2:38
Gen X 1:47 – 1:48 – 1:49
Baby Boomers 1:06 – 1:09 – 1:12
Trust Issues
75% of Americans say they would stop doing business with an organization if they misused their data.
Shrinking Our Digital Footprint
44% have taken steps to lessen the amount of data they share online
36% have chosen to buy a product in-store rather than online
21% have actively limited the amount of time spent on their smartphones
12% have deactivated one or more of their social media accounts
U.S. vs. the World
"Digital positively impacts my health and well-being" 30% – 44%
"I believe that social media has had a negative impact on political discourse" 60% – 45%
Contact us today to learn how our suite of experiential-led services can help you build brand awareness and earn lifelong loyalists.
---
Subscribe for more
Inspira news, insights, and white papers
"*" indicates required fields