Infographic: Millennials are Changing the World of Pet Parenting
By Inspira Marketing
October 16, 2019
Americans have always held a special place in their hearts for pets, and this continues to hold true today. However, today's pet-owners seem to be even more obsessed with their furry friends than ever before, as evidenced by continuously increasing expenditures within the category. The impetus for this growth? Look no further than Millennials. Here, we take a look a the growth of the pet industry and show how Millennials are leaving their (paw) print on the category.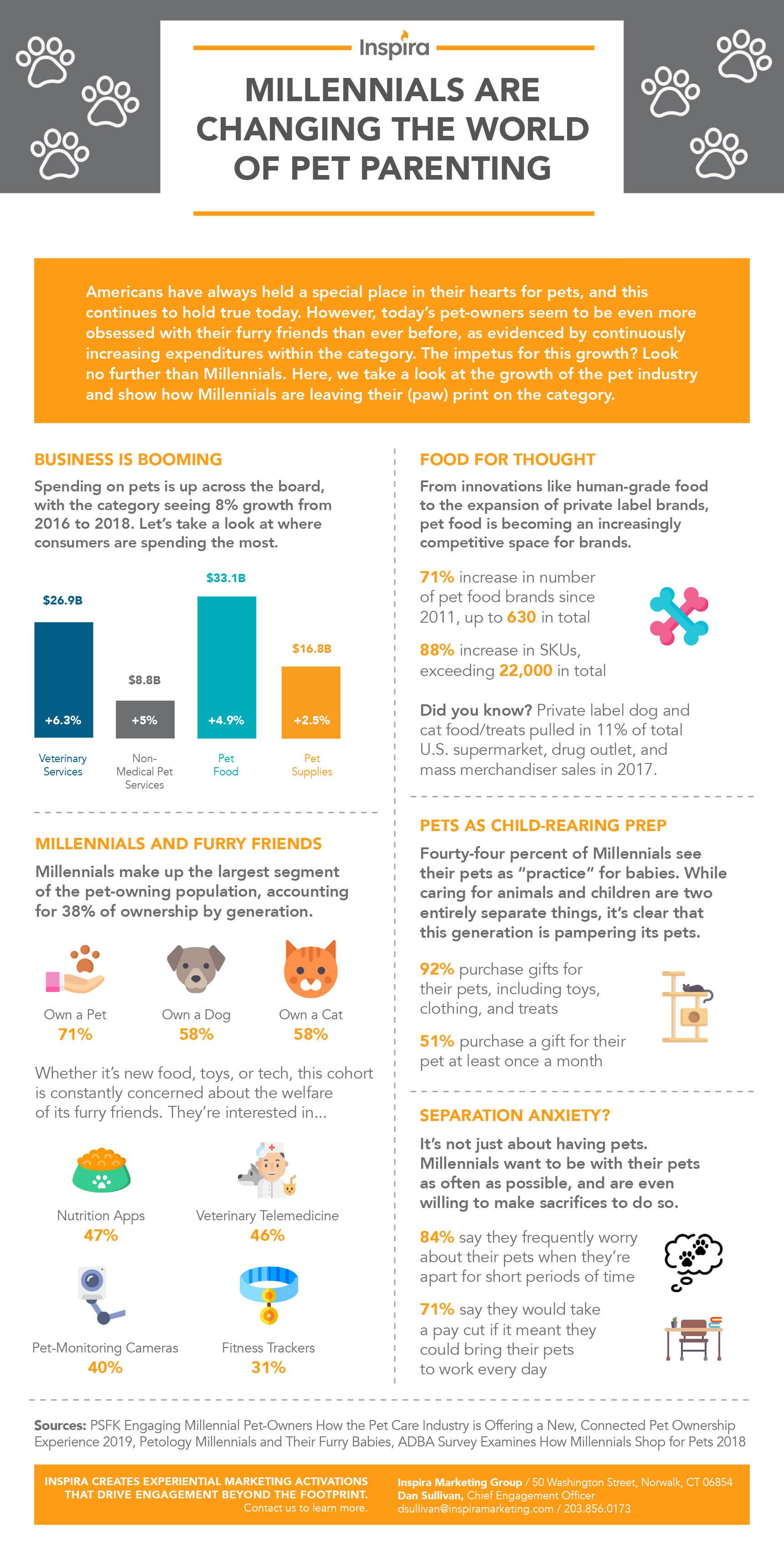 Here are five facts you need to know about the changing landscape in the pet industry:
Business is Booming
Veterinary Services $26.9B (+6.3%)
Non-Medical Pet Services $8.8B (+5%)
Pet Food $33.1B (+4.9%)
Pet Supplies $16.8B (+2.5%)
Food for Thought
71% increase in number of pet food brands since 2011 (630 total)
88% increase in number of SKUs (over 22,000)
Millennials and Furry Friends
Millennials make up the largest segment of the pet-owning population, accounting for 38% of ownership by generation.
73% own a pet
56% own a dog
36% own a cat
Whether it's finding new food, toys, or tech, this cohort is constantly concerned with the welfare of its furry friends. They're interested in…
47% Nutrition Apps
46% Veterinary Telemedicine
40% Pet-Monitoring Cameras
31% Fitness Trackers
Pets as Child-Rearing Prep
92% purchase gifts for their pets, such as toys, clothing, and treats
51% purchase a gift at least once a month
Separation Anxiety?
84% frequently worry about their pets when they're apart for short periods of time
71% would take a pay cut if it meant they could bring their pet(s) to work every day
Is your brand looking to create connections with pet parents and their furry friends? Contact us today to learn how our suite of experiential-led services can help you build awareness and earn lifelong loyalists.
---
Subscribe for more
Inspira news, insights, and white papers
"*" indicates required fields