Infographic: Thanksgiving Plans Amid the Pandemic
By Inspira Marketing
November 20, 2020
Amid a year defined by social distancing and the pandemic that brought it, millions of Americans are preparing to celebrate Thanksgiving, a holiday defined by coming together with loved ones to show thanks. However, with cases on the rise across the nation, the CDC has recommended that people avoid traveling for the holiday — casting doubt on plans that were already in place. Below, we take a look at what consumers plan to do for a Thanksgiving unlike any other, where they'll travel, and how they'll be taking precautions along the way.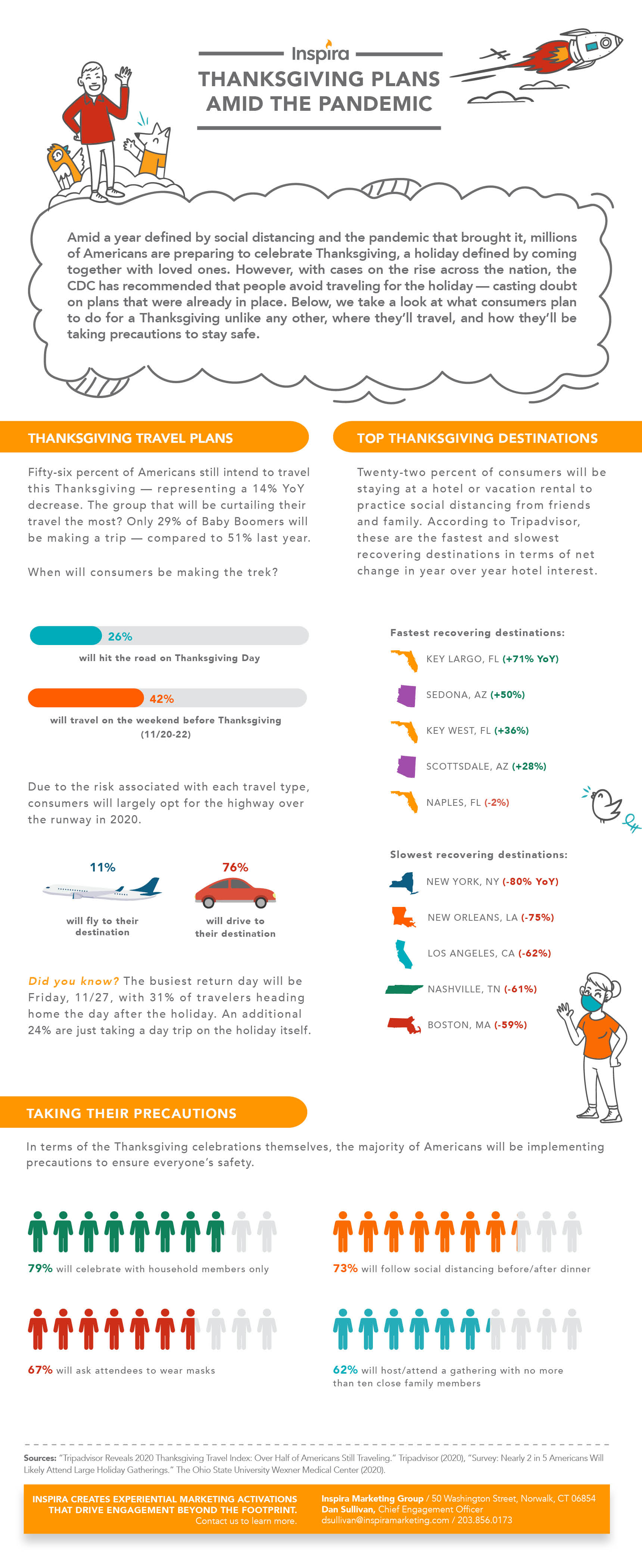 Here are three things you need to know about Americans' plans for Thanksgiving 2020:
Thanksgiving Travel Plans
Fifty-six percent of Americans still intend to travel this Thanksgiving — representing a 14% YoY decrease. The group that will be curtailing their travel the most? Only 29% of Baby Boomers will be making a trip — compared to 51% last year.
When will consumers be making the trek?
42% say they will travel on the weekend before Thanksgiving (11/20-22)
26% say they will hit the road on Thanksgiving Day
Due to the risk associated with each travel type, consumers will largely opt for the highway over the runway in 2020.
76% will drive to their destination
11% will fly to their destination
Did you know? The busiest return day will be Friday, 11/27, with 31% of travelers heading home the day after the holiday. An additional 24% are just taking a day trip on the holiday itself.
Top Thanksgiving Destinations
Twenty-two percent of consumers will be staying at a hotel or vacation rental to practice social distancing from friends and family. According to Tripadvisor, these are the fastest and slowest recovering destinations in terms of net change in year over year hotel interest.
Fastest recovering destinations:

Key Largo, FL (+71% YoY)
Sedona, AZ (+50%)
Key West, FL (+36%)
Scottsdale, AZ (+28%)
Naples, FL (-2%)
Slowest recovering destinations:

New York, NY (-80%)
New Orleans, LA (-75%)
Los Angeles, CA (-62%)
Nashville, TN (-61%)
Boston, MA (-59%)
Taking Their Precautions
In terms of the Thanksgiving celebrations themselves, the majority of Americans will be implementing precautions to ensure everyone's safety.
79% will celebrate with household members only
73% will follow social distancing before/after dinner
67% will ask attendees to wear masks
62% will host/attend a gathering with no more than 10 close family members
---
Subscribe for more
Inspira news, insights, and white papers
"*" indicates required fields