Infographic: Travel Sees Late-Summer Uptick
By Inspira Marketing
August 26, 2020
According to analysis from Tourism Economics, the U.S. travel economy has suffered over $341 billion in cumulative losses since early March. However, the negative outlook that pervaded in previous months has given way to slight optimism. Travel spending in the week ending 8/15 tallied a total of $12.9 billion, representing a 5% increase from the previous week and the fifth-consecutive week of expansion. Though these numbers are still well shy of last year's levels, it provides some hope for the many Americans looking to get out of town for their next vacation. Below, we take a look at their feelings on flying, the popularity of destinations, and top concerns that persist.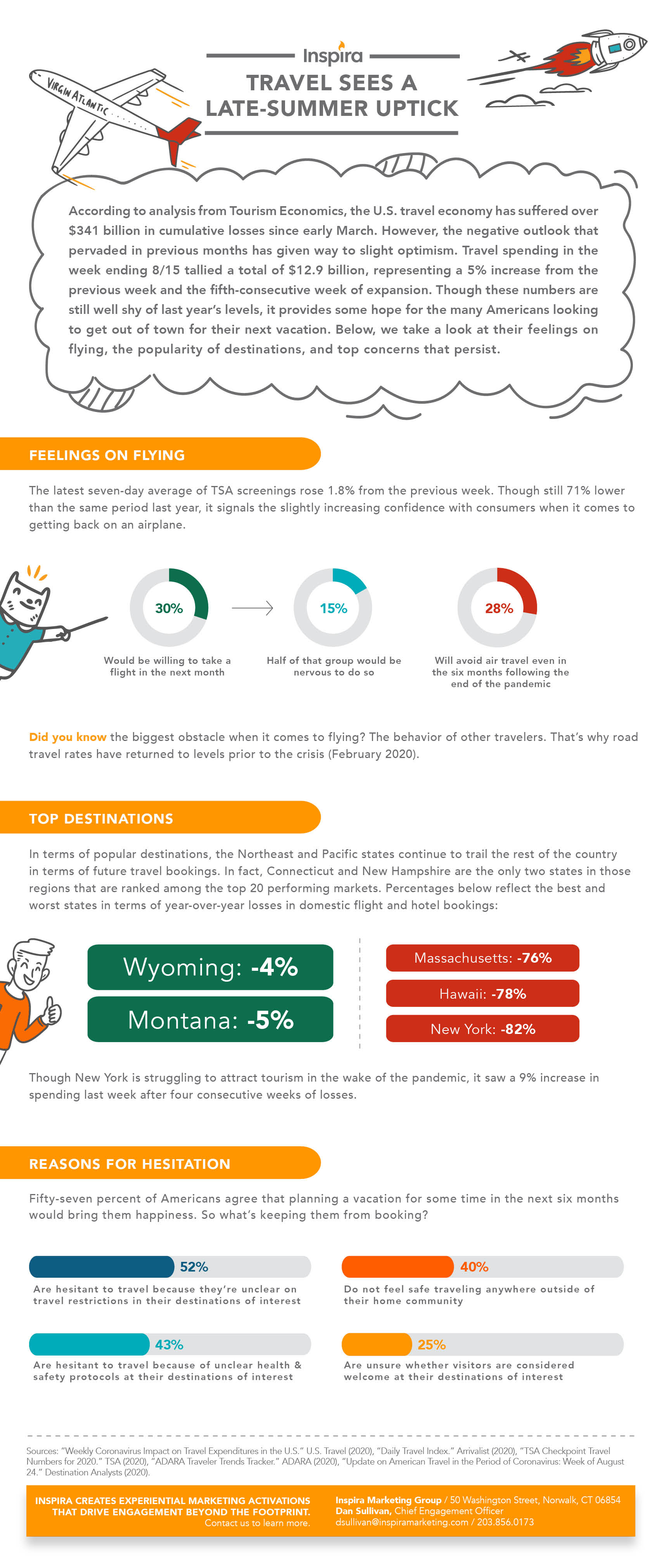 Here are three things you need to know about the state in U.S. travel:
Feelings on Flying
The latest seven-day average of TSA screenings rose 1.8% from the previous week. Though still 71% lower than the same period last year, it signals the slightly increasing confidence with consumers when it comes to getting back on an airplane.
30% say they would be willing to take a flight in the next month, but half of that group (15% of total respondents) would be nervous to do so
28% say they will avoid air travel even in the immediate six months after the pandemic is resolved
Did you know the biggest obstacle when it comes to flying? The behavior of other travelers. That's why road travel rates have returned to levels prior to the crisis (February 2020).
Top Destinations
In terms of popular destinations, the Northeast and Pacific states continue to trail the rest of the country in terms of future travel bookings. In fact, Connecticut and New Hampshire are the only two states in those regions that are ranked among the top 20 performing markets. Percentages below reflect the best and worst states in terms of year-over-year losses in domestic flight and hotel bookings.
Wyoming: -4%
Montana -5%
Massachusetts -76%
Hawaii -78%
New York -82%
Though New York is struggling to attract tourism in the wake of the pandemic, it saw a 9% increase in spending last week after four consecutive weeks of losses.
Reasons for Hesitation
Fifty-seven percent of Americans agree that planning a vacation for some time in the next six months would bring them happiness. So what's keeping them from booking?
52% are hesitant to travel because they're unclear on travel restrictions in their destinations of interest
43% are hesitant to travel because of unclear health and safety protocols at their destinations of interest
40% do not feel safe traveling anywhere outside of their home community
25% are unsure whether visitors are considered welcome at their destinations of interest
---
Subscribe for more
Inspira news, insights, and white papers
"*" indicates required fields