Infographic: Understanding CBD and its Advocates
By Inspira Marketing
January 22, 2019
As states across the country deliberate over the legalization of medicinal and recreational marijuana, many Americans have turned to cannabidiol (CBD), a non-psychoactive compound in cannabis that purportedly offers a variety of medical benefits to its users. Here, we take a look at CBD users: who they are, why they turn to it, and their sentiments on the increasingly popular natural remedy.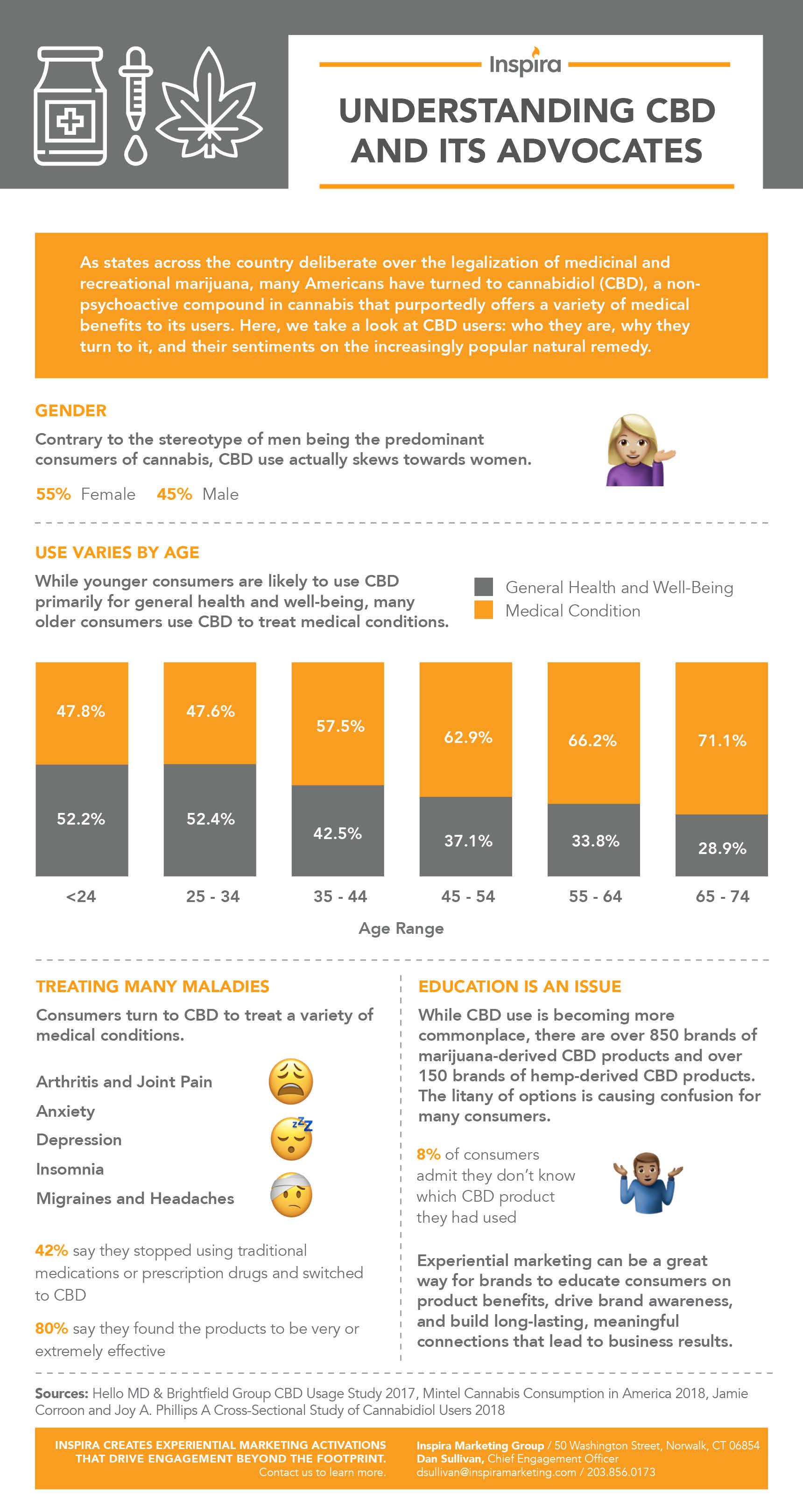 Here are four facts you need to know about CBD and its users:
Gender
55% female
45% male
Use Varies By Age
Age – Health and Well-Being – Medical Condition
<24 – 52.2% – 47.8%
25-34 – 52.4% – 47.6%
35-44 – 42.5% – 57.5%
45-54 – 37.1% – 62.9%
55-64 – 33.8% – 66.2%
65-74 – 28.9% – 71.1%
Treating Many Maladies
Arthritis and Joint Pain
Anxiety
Depression
Insomnia
Migraines and Headaches
42% say they stopped using traditional medications or prescription drugs and switched to CBD
80% say they found products to be very or extremely effective
Education is an Issue
8% of consumers admit they don't know which CBD product they had used
Looking to educate consumers and increase awareness for your brand of CBD products? Contact us today to learn how our suite of experiential marketing services can help build long-lasting, meaningful connections with consumers.
---
Subscribe for more
Inspira news, insights, and white papers
"*" indicates required fields