Infographic: What Do Travelers Want From Hotels?
By Inspira Marketing
October 16, 2019
As consumers have come to value experiences over things, travel has seen a significant rise in popularity. As a result, consumers have come to expect more from the hotels they do business with. Whether it's making sure that the technology in each room is commensurate with their standards or looking into the local experiences that the hotel makes available to guests, travelers want more. Here, we take a look at some of the pain points involved in today's hotel experience and how brands can adjust in order to win over the next generation of travel consumers.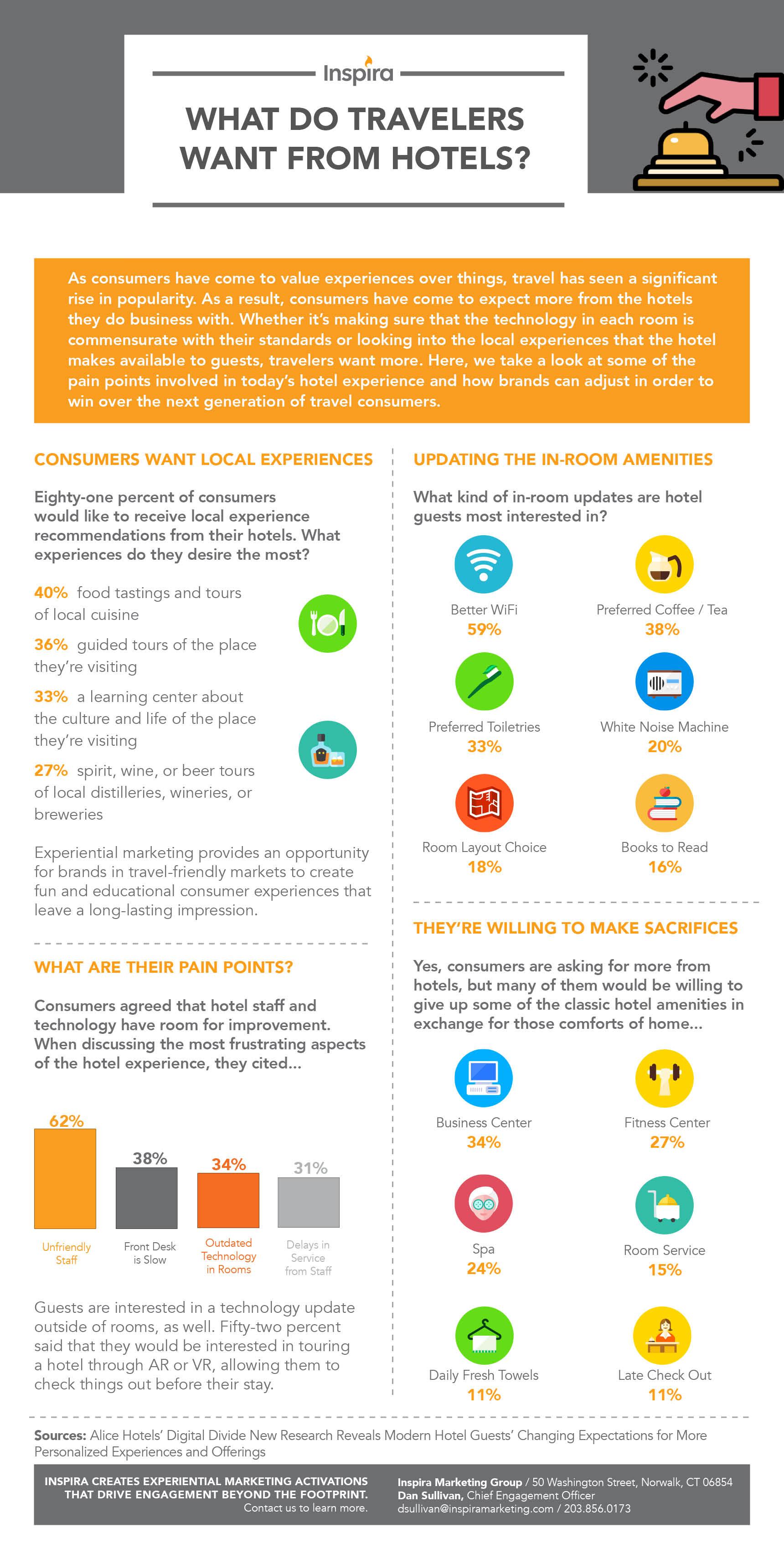 Here are four facts you need to know about consumers' hotel preferences:
Consumers Want Local Experiences
40% food tastings/tours of local cuisine
36% guided tours of the town they're visiting
33% a learning center about the culture/life of the city they're visiting
27% spirit/wine/beer tours of local distilleries/wineries/breweries
What Are Their Pain Points?
62% said unfriendly staff
38% said the front desk takes too long to complete requests
34% said outdated technology in rooms
31% said delays in service from staff
Updating the In-Room Amenities
59% a better Wi-Fi connection
38% preferred coffee/tea selection in-room
33% preferred toiletries in-room
20% white noise machine
18% option to select room's layout
16% selection of books to read
They're Willing to Make Sacrifices
34% business center
27% fitness center
24% spa
15% room service
11% fresh towels delivered daily
11% later check out times
Is your brand looking to appeal to the travelers of tomorrow? Contact us today to learn how our suite of experiential-led services can help you build brand awareness and earn lifelong loyalists.
---
Subscribe for more
Inspira news, insights, and white papers
"*" indicates required fields