Infographic: What We Know About Cannabis Consumers
By Inspira Marketing
October 16, 2019
As more states move to legalize medicinal and recreational marijuana, consumer attitudes continue to evolve. In fact, 56% of Americans indicate that they're in favor of legalization, while 16% admit to being cannabis consumers themselves. Of those who consume, we're seeing increasing diversity; men, women, young, and old are all turning to cannabis as a means to reduce stress, ease aches and pains, and even diminish use of other substances like alcohol and tobacco. Here, we take a look at today's cannabis consumer to understand who they are and what makes them tick.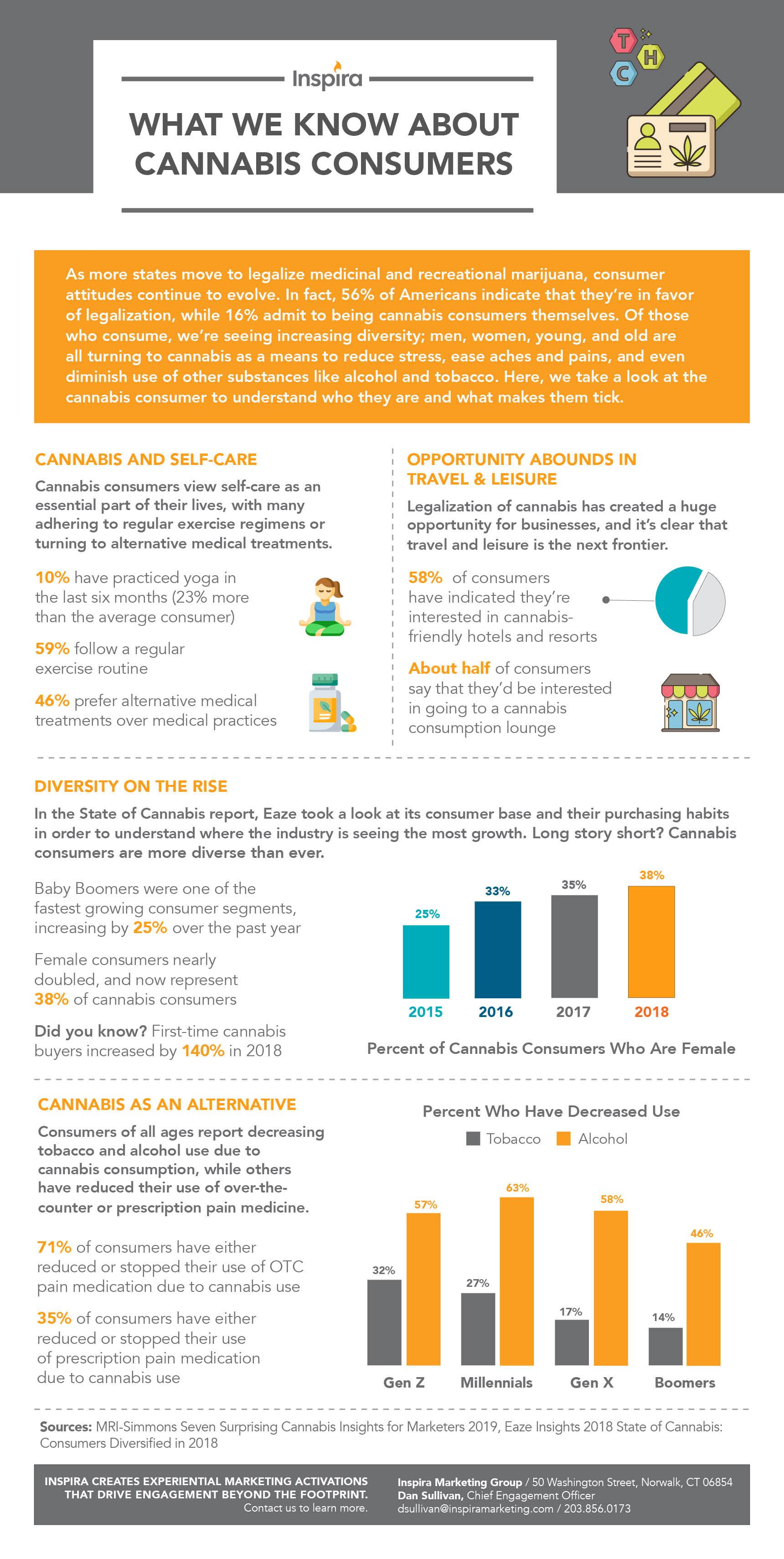 Here are four things you need to know about cannabis consumers:
Cannabis and Self-Care
10% have practiced yoga in the last six months (23% more than the average consumer)
59% follow a regular exercise routine
46% prefer alternative medical treatments over medical practices
Opportunity Abounds in Travel and Leisure
58% of consumers have indicated they're interested in cannabis-friendly hotels and resorts
About half of consumers say they'd be interested in going to a cannabis consumption lounge
Diversity on the Rise
Baby Boomers were one of the fastest growing consumer segments, increasing by 25% over the past year
Female consumers nearly doubled, and now represent 38% of cannabis consumers
Did you know? First-time cannabis consumers increased by 140% in 2018
Cannabis as an Alternative
71% of consumers have either reduced or stopped their use of OTC pain medication due to cannabis use
35% of consumers have either reduced or stopped their use of prescription pain medication due to cannabis use
Is your brand looking to connect with cannabis consumers? Contact us today to learn how our suite of experiential-led services can help you build brand awareness and earn lifelong loyalists.
---
Subscribe for more
Inspira news, insights, and white papers
"*" indicates required fields