The (Not So) Hidden Value Of "Instagrammable" Events
By Bobby Johnson
June 6, 2018
It's no secret to marketers that social media has changed the game for branded experiences. Though experiential was once confined solely to an event footprint, social media now allows activations to transcend the physical space – and amass a notable amount of impressions along the way.
Instagram, in particular, has established itself as an ideal platform for storytelling and sharing, given its visual nature and ever-growing user base. Knowing this, marketers that design events with Instagram in mind are one step closer to maximizing the return on their investment. Below, we reflect on two brands that reaped the rewards of engaging the social media generation:
Revolve
Trend-forward online fashion retailer, Revolve, embodied the "Instagrammable" experience at its annual two-day Coachella event, dubbed #REVOLVEfestival. Between the A-List musical lineup and variety of aesthetically pleasing photo backdrops, it's clear that #REVOLVEfestival was designed with social media in mind. The event also featured In N Out catering, CIROC cocktails, and a carousel swing ride transported directly from Michael Jackson's Neverland Ranch.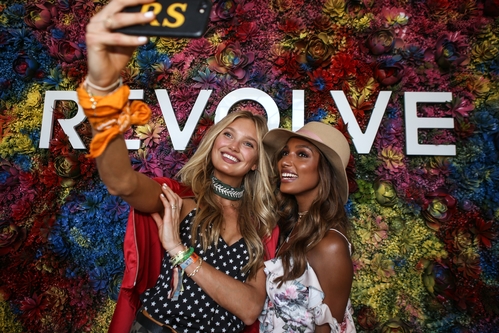 (Image Credit: Getty Images)
As a retailer that conducts the majority of its advertising and marketing efforts on social media, Revolve knows the recipe for a shareable and Instagram-worthy experience. "Creating Instagrammable moments is always top of mind when we're planning social activations. From Revolve Social Club to influencer brunches to festival parties, we aim to create aesthetically stimulating experiences that organically encourage sharing via social," Raissa Gerona, chief brand officer told Forbes earlier this year.
Overall, the millennial-focused retailer knows what its audience considers interesting and understands the motivations behind their purchasing decisions – with the help of their network of 400+ fashion and lifestyle influencers. This attention to detail helped make #REVOLVEfestival such a success, generating over 4.4 billion social media impressions last year.
A$AP Rocky's AWGE Bodega
AWGE, the creative collective started by rapper and business mogul A$AP Rocky, took an authentic approach to developing a buzzworthy pop-up shop. The "AWGE Bodega" brought the culture of New York convenience stores to Selfridges, a high-end department store based in London. The branded shop lived in the basement of the retail space, complete with graffiti, a run-down phone booth, and over 150 limited edition products – including everything from Krispy Kreme donuts to decks of playing cards – designed specifically for the space.
(Image Credit: Selfridges)
The original look and feel of the bodega offered UK streetwear enthusiasts and A$AP Mob fans a new experience that isn't typically found in their native city. And, as a limited run pop-up, the AWGE Bodega capitalized on consumers' "fear of missing out," generating excitement for those who were lucky enough to attend. In turn, these fans felt compelled to share with their Instagram followers and networks.
Another contributing factor to the success of the AWGE Bodega was in the limited edition products themselves. The exclusivity and uniqueness of the products, which included nostalgic designs and pop culture references, led to social sharing and buzz long after the activation was complete.
Overall, developing a creative and hype-worthy experience that resonates with consumers can lead to organic sharing that reaches far beyond the event footprint. Both Revolve and the AWGE Bodega did just that by investing in aesthetics, exclusive premiums, and unique "had to be there" entertainment. Follow their lead and you, too, will be on the way to maximizing the ROI of your next activation.  
---
Subscribe for more
Inspira news, insights, and white papers
"*" indicates required fields