TikTok Strategy For Brands: Opportunity for Discovery
By Inspira Marketing
October 26, 2020
TikTok isn't just for Gen-Z. Beyond the Hype House and the 30-second dances to Cardi B, there are endless opportunities for brand strategy.
The popular, video-oriented social media platform has maintained exponential growth since its release in 2016. One in six Americans admits they have the app downloaded on their mobile device, a 75% growth from 2019. The amount of average weekly users recently surpassed 53.5 million.
For some, "TikToking" is a full-time job. Digital creators can build a follower base by honing in on a certain niche. The use of trending sounds and hashtags can ensure creators reach an audience. Or, whether intentional or not, users can gain traction from one viral video. With a unique algorithm, it has never been easier to pop up on millions of phone screens.
Now, the question is: how do brands tap into this massive visibility opportunity? Check out our top five suggestions for increasing reach on TikTok.
1. Hashtags, Hashtags, Hashtags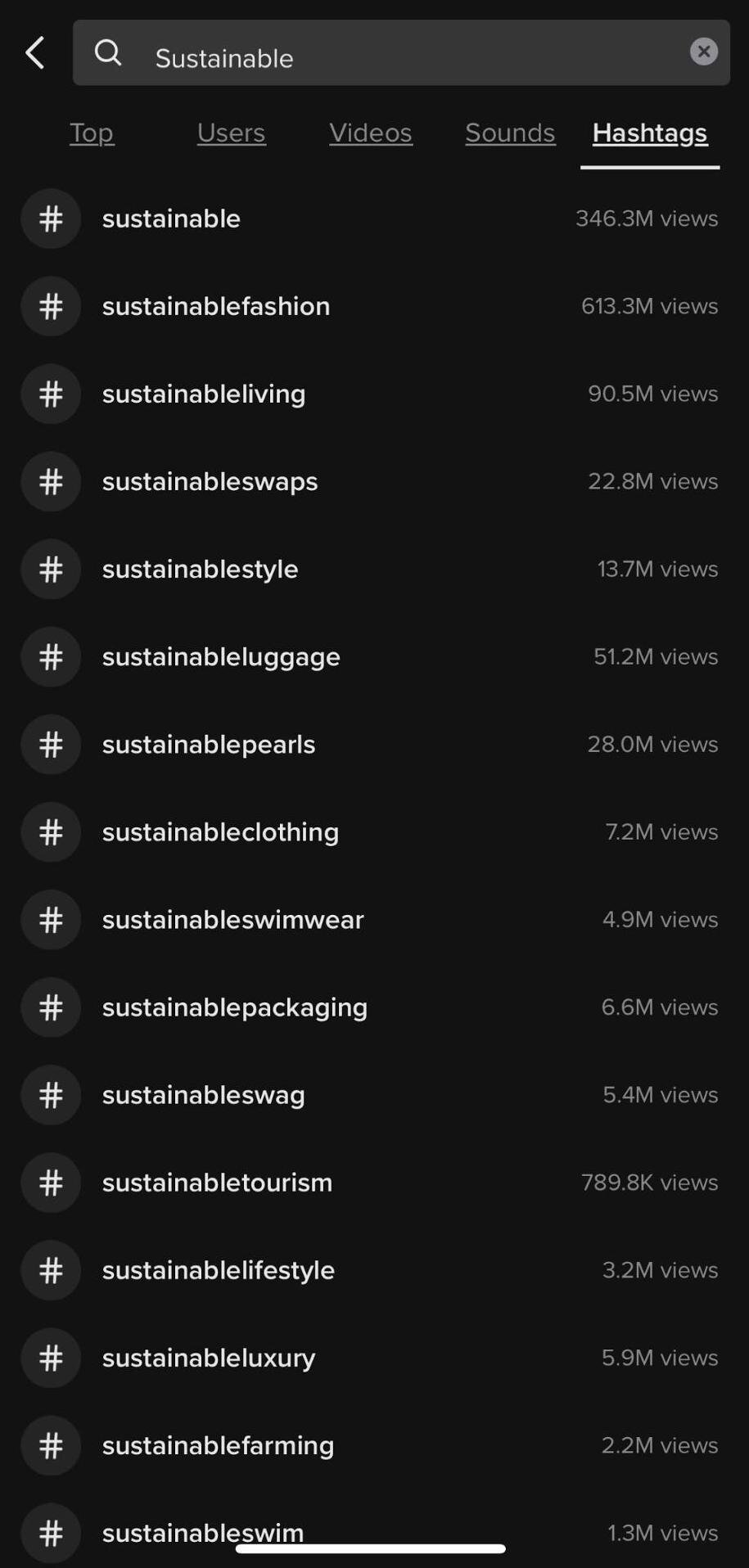 Hashtags are our number 1 most important tool in increasing reach. On TikTok, they function similarly to hashtags on other platforms: they help sort content and give the algorithm a hint as to what your post is all about. Hashtags allow your brand's content to be seen when a TikTok user is searching for something specific. When a user searches a hashtag, the app will present all videos that have used it, starting with the most popular.
TikTok's algorithm knows what kind of content a user mostly watches, generating a "For You Page" that suits them. Using tags will also contribute to showing up on relevant users' For You Page. Using hashtags that relate to your brand is an important part of generating views.
To figure out which hashtags you might want to use, go to the app, and search for a general term that is relevant to your brand. Select "hashtags" and see which have the highest amount of views. Here is an example, building off "#sustainable."
Along with these, mix in a few of the trending hashtags, which show up to all users on the app's "Discover" page. This throws you into the large pool of users trying to go viral with these hashtags, but it doesn't hurt to use one or two of them to complement your relevant hashtags.
Be sure to not use too many hashtags, as this can trigger a spam warning on your videos. We recommend three relevant hashtags and two trending ones.
2. Use Trending Sounds
A beloved feature of TikTok is the ability to put a song or audio piece, such as a memorable audio clip from Keeping up with the Kardashians, over video content. Along with hashtags, sounds also show up on the Discover page. Trending sounds don't always just mean a trending dance, they can include outfit changes, makeup tutorials, workout routines, and more.
Check out popular sounds on the Discover page and also at the top of the screen when you are creating a post:
Click the big plus button
Tap "Sounds" at the top of the screen
Check out "recommended" sounds
Also browse through "TikTok Viral"
Pay attention to "Playlists"
Using trending sounds increases your reach since your video will be discoverable when users click on the sound. Also, it's another way to increase the chances of showing up on the For You Page.
Some trending sounds might not be available to brands for use. This doesn't mean participating is out of the question, though! For example, influencers commonly post quick outfit changes, set to a trending sound, to provide inspiration for their followers. If the specific sound isn't available for use, browse through royalty-free music and take part in the trend using a similar sound, and add be sure to use hashtags relevant to the trend.
3. Post Consistently
Many influencers post as much as 10 times per day. However, for brands, we know this isn't a sustainable strategy.
Figure out what posting cadence works best for you, and stick to it. Rather than pushing out lots of strong content at once, followed by no posts at all the next week, we recommend spreading it out. Posting often is the goal, as it increases visibility, so try and line up 1-3 posts weekly. They can be short, quick posts. If in need of ideas, research the trending hashtags and sounds and join in on the trends!
Below, we will talk about how activating influencers can help increase posting frequency, too.
4. Partner with TikTok Influencers
Influencers on TikTok are generating tons of content to keep their followers engaged and also gain new followers.
Working with these influencers taps into their follower base and draws attention to your brand. With an influencer collaboration, you not only get visibility on their page, but you can tap into their creativity and generate fresh content for your brand's page.
The TikTok Creator Marketplace is a useful tool for finding the right influencers to collaborate with. This free resource from TikTok allows brands to generate a filtered search for influencers based on reach, topic, location, and more. You can even begin outreach and manage campaigns directly on the marketplace, making it easy to quickly activate a TikTok influencer marketing campaign.
5. Post a Variety of Content
Use the power of TikTok's algorithm and reach as many people as possible by mixing up the content that your brand posts.
Follow trends, show off products or services, use influencer generated content, and prioritize content that feels authentic over highly produced video. This will get your videos on the screens of a variety of users, raising the chances of reaching a potential customer. Keep an eye out for updates to the Discover page, as it will help give your team ideas and diversify your content.
The more your brand can blend in with organic creator content, the less likely it is that users will scroll past your video, thinking it might be an ad.
NEED ASSISTANCE WITH CREATING TIKTOKS, OR ADVICE ON WHERE TO START?
HIT US UP, WE'RE HERE TO HELP.
---
Subscribe for more
Inspira news, insights, and white papers
"*" indicates required fields