4 Ways Brands are Giving Back During the Pandemic
By Inspira Marketing
March 31, 2020
As we've discussed over the past couple of weeks, the COVID-19 pandemic has had far-reaching effects across the globe. While public health is the greatest concern, businesses have been left wondering how they should respond during a time of uncertainty. For many brands, that isn't an easy question to answer, but this much is true: people are paying attention.
According to the People Insider's Panel, 89% of consumers are monitoring brands' layoffs, paid sick days, and how they are giving back. Of course, giving back will mean something different for every brand. Whether it's giving to a cause near and dear to the brand's heart, providing a service that makes consumers' lives easier, or creating content that entertains, people want to know what brands are doing to help.
As an agency that prides itself on doing great work for a greater cause, we wanted to highlight a few of the many brands that are bringing value, entertainment, and good to the world during this difficult time. Read along below for more!
National Geographic Backs Local Journalism
In times of crisis, journalism helps us all stay informed and connected. However, the reality of social distancing means that it's even harder for reporters to capture what is going on in the world around them. That's why National Geographic created a fund that will distribute support ranging from $1,000 to $8,000 for "local coverage of the preparation, response, and impact of the global pandemic as seen through evidence-based reporting." Reporters are specifically encouraged to cover social, emotional, and economic issues that highlight the inequities brought to light by COVID-19, and you need not be a writer to apply. Writers, photographers, videographers, audio journalists, filmmakers, data visualization specialists, and others are all encouraged to apply for funding.
Popeyes Helps Fans Stay in
It's safe to say we've all been getting more use out of our streaming services lately, but for those who didn't already have an account, Popeyes rolled out "Fried Chicken N Chill," a social media campaign that encouraged fans to share photos of themselves eating Popeyes with the hashtag #ThatPasswordFromPopeyes. The first 1,000 fans to post were rewarded with a message from Popeyes containing the login information for the brand's Netflix account.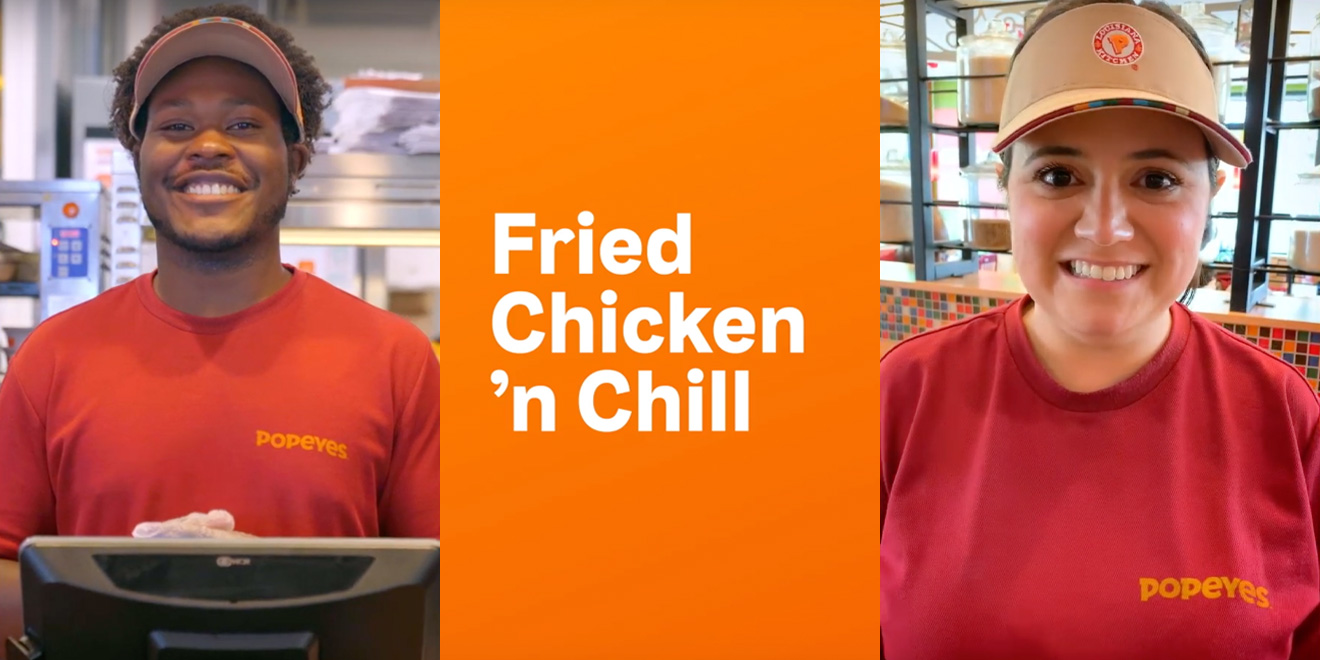 (Image Credit: Popeyes)
Stepping up to Save Restaurants
Last week, a coalition of about a dozen national eateries launched The Great American Takeout, an initiative that calls on Americans to order delivery or pickup from a local restaurant at least once each Tuesday. This week, they're taking it to the next level, with Smithfield Foods and Ventura Foods pledging to donate $5 for each social media post with #TheGreatAmericanTakeout (up to $50,000 and $25,000, respectively) to charities that support employees and families of those in the restaurant industry.
Supporting the Supply Chain
As you know, the pandemic has caused a severe strain on the supply chain, with items like hand sanitizer, masks, gloves, and ventilators all seeing demand that outpaces production. In response to these shortages, many brands have stepped up and offered their resources to aid in production. In addition to its donation to the U.S. Bartenders Guild Relief Fund, Diageo has donated enough alcohol to produce more than eight million bottles of hand sanitizer. Similarly, MSA – which typically produces safety equipment for firefighters and construction workers – has donated masks to hospitals and amped up production on ventilators and other life-saving equipment. Even Bauer, one of the top producers of hockey equipment, announced that it would repurpose its facilities to make face shields for medical professionals on the front line. After just 48 hours, they had already received orders for over one million masks.
Though the ending of the COVID-19 crisis is not yet in sight, it's encouraging to see brands doing their part to give back to communities across the world, support their employees and consumers, and bring much-needed positivity into our lives during a time of need.
Sources: "People Reports Consumers Changing Habits, Watching Brand Behavior Amid COVID-19 Pandemic." Media Post (2020), "How Brands Can Survive the COVID-19 Crisis." Kantar (2020), "National Geographic Society Launches Fund for Journalists Covering COVID-19." Media Post (2020), "Popeyes Dishes Out Netflix Login Details as Fans Self-Isolate Amid Coronavirus." Marketing Daily (2020).
---
Subscribe for more
Inspira news, insights, and white papers
"*" indicates required fields