From Sober Socializing to Wellness Culture: Nonalcoholic Drinks Take the Spotlight
By Bobby Johnson
June 28, 2023
People of every age are turning to non-alcoholic drink options in larger numbers than ever before. The trend goes by names like "sober curious" and "alcohol alternative," but it isn't necessarily a teetotaler movement.
In fact, many people bringing non-alcoholic spirits and low/no alcoholic drinks into the mainstream are just looking to supplement their normal consumption with healthier alternatives.
This is a new movement, too. According to the "State of the Beverage Alcohol Industry" report by IRi in March of 2023, the distribution of non-alcoholic drinks had its first small bump in 2019: just 5%. In 2020, however, distribution skyrocketed by 32%. Every year since has seen a consistent rise.
We spoke to the experts and dug up data to find out why this trend is happening, what kind of alcohol alternatives work best, and how marketers and brands can reach this sober-curious crowd.
Consumers Want to Drink Responsibly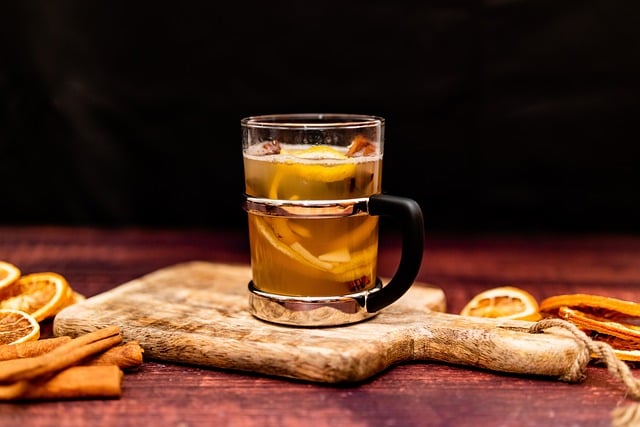 Apparently after years of hearing that "drink responsibly" slogan like an "amen" at the end of every ad, its actually started to sink in.
Mintel's "Zero Proof Craft Cocktail" report shows that 35% of "sober curious" US consumers do it to make alcohol an "occasional indulgence." Basically, they want to keep drinking, they just want to give their body a bit of a break.
The "Alcohol Alternatives" report from 2022 shows that over-drinking seemed to hit a peak in 2016. That year, a full quarter of consumers reported overdoing it on more than one occasion. However, ever since, the number of reported incidents of "getting totes smashed" (our phrasing) has declined and was around 18% in 2021.
Younger people in particular, according to the same report, are worried their high levels of stress are leading them to drink too much: they specifically mentioned looking for healthier alternatives. Gen Z consumers are just as stressed as their elder counterparts, but they want alcohol-alternative drinks to spread out their consumption.
They're still looking to relax, and they feel great recipes and alcohol-esque packaging can bridge the gap.
Non-Alcoholic Drinks Are Making a Splash On Social Media
There are large audiences on social media looking for alcohol alternatives. They're not always looking to fully replace their boozy favorites, sometimes they're just looking for a way to keep the good times rolling without feeling dusty the following morning.
"Personally, I am loving the trend, specifically on TikTok. I see so many people interested in a sober-curious lifestyle, or sharing elevated mocktail recipes. Telling someone you're not drinking doesn't feel like it has the same stigma as it used to. I love to lay by the pool on warm summer days with a mocktail in hand. I get to enjoy a nice, refreshing drink while keeping things light and fun (and avoiding the hangover)." – Alexa Sorensen, Digital Marketing Specialist, Inspira Marketing
This popular TikTok video by Olivia Noceda showcases the importance of turning a mocktail into a ritual, and using that ritual to treat your body a little better. This TikTok by healthylittlepeach uses the exact same fast-cut, music-scored approach as any cocktail recipe video to show off a Topical Sunrise mocktail.
Maintaining the Ritual is Key for Alcohol Alternatives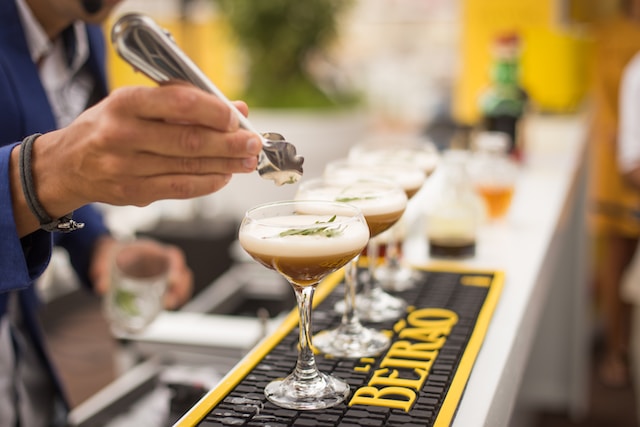 "The most successful non-alcoholic brands are able to make a 'like' product that satisfies the ritual and experience a consumer is looking for." – Joe McConville, Director, Client Engagement, Inspira Marketing
Non-alcoholic beers are probably the cleanest version of this idea: it looks like a beer, it is a beer in almost every way, and it comes in a beer bottle. The act of just sitting down, popping the cap, and throwing one back is virtually unchanged.
"Sometimes it's just the vessel that does the trick. Put your sparkling seltzer in a wine glass, or try throwing a lemon or lime in it while sitting on a patio. Sometimes that's all you need, tilting the craving in a different direction." – Carl Russo, Field Marketing & Brand Activation, Diageo Beer Company & Inspira Marketing
Liquid death has capitalized on the "vessel" issue by just making canned water look like a tallboy. But both home and professional mixologists can get further with their alcohol alternative cocktails through the use of the right glass and the right garnish.
According to the "Alcohol Alternatives" report, 17% of consumers say "adult-friendly packaging" is just as important as taste when it comes to their non-alcoholic beverage choice. As any publishing company in the world will tell you, people absolutely do judge a book by its cover. Your packaging and choice of glassware need to reflect that.
Consumers Want Quality Mocktails
In the past, mocktails were thin on the ground. You had a Shirley Temple and…actually, you pretty much just had a Shirley Temple. Maybe a Virgin Mudslide, which is a chocolate shake.
No surprise, then, that more attention paid to tastier, more complex mocktails lead to a rise in consumption. To quote the "Zero-Proof Craft Cocktails" report from Mintel: "Unlike mocktail offerings of the past, this segment of consumers are looking for alcohol-free drinks that still carry the complexity and maturity of a cocktail, just without the alcohol itself."
Upscale restaurants are jumping on this trend for craft mocktails. Esme, a Michelin-star restaurant in Chicago, pairs some of their menu items with their eight custom-made alcohol-free cocktails. Alice in NYC doesn't mind charging around $17 for their craft mocktails containing specialty ingredients like date molasses, and patrons don't seem to mind paying.
"My pregnant missus has kindly offered to be the test subject for my mocktail recipes. She reports that non-alcoholic spirits like Ritual Zero Proof tequila alternative are the closest to the real thing, likely because of the capsaicin they add to give it that alcohol-esque burn." – Joe McConville
The Sober Curious Crowd is Looking for Variety and Attention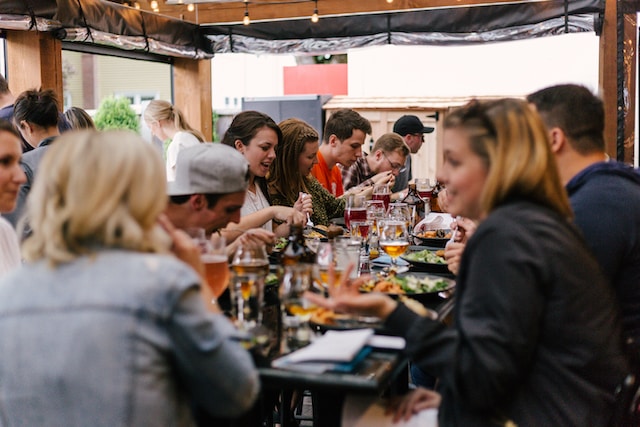 For whatever reason they're looking for alcohol alternatives, from health-consciousness to buzz management to replacing the ritual, consumers want it to look like alcohol and they want it to taste good.
To learn more about the brands conquering this latest trend, or to bolster your own non-alcoholic marketing campaign, reach out to Inspira Marketing today.
---
Subscribe for more
Inspira news, insights, and white papers
"*" indicates required fields