How Brand-Led Mental Health Marketing Campaigns Can Make an Impact
By Ann D'Adamo
May 3, 2021
Wellness marketing is not new. From #MeatlessMonday to #SelfCareSaturday, marketers have been tapping into healthy lifestyle messaging to drive conversation around their brand. This approach has been tremendously successful for many—especially beauty and food brands that have developed entirely new categories of wellness-oriented products to attract healthy lifestyle consumers.
While the topic of physical health has been widely discussed, the events of the past year have brought mental health to the forefront. For the first time, consumers are openly discussing depression, anxiety, and feelings of isolation; in turn, it's prompting brands to speak out in support of those experiencing mental health issues. This shift is a good thing! For far too long, there's been a stigma attached to mental health and a reluctance from both consumers and brands to discuss these topics and take action. But what is the role of brands in talking about these sensitive – and very personal – topics? And how can brands do it right? We looked at successful campaigns to discover what works and why.
MTV Entertainment Group and MusiCares Initiate Mental Health Action Day
Although Mental Health Awareness Month was established during the month of May in 1949, it hasn't been a cause that brands have openly rallied around. This year, MTV Entertainment Group is spearheading a Mental Health Action Day on May 20th. To date, more than 600 partner brands, agencies (including Inspira), and non-profits have signed on to participate in the event. MTVEG is leading by providing opportunities for companies to develop consumer-facing messaging around mental health and encouraging companies to offer mental health awareness programming and services to their own employees. Why does this work? It provides a powerful platform for change when a network of brands, agencies, and non-profits lend their collective voices and commit to taking action on mental health issues.
JanSport Lightens the Load for Kids
Although kids and teens were less likely to be physically impacted by COVID-19, their mental health was significantly impacted. According to Pew Research, seven in ten young people say they are experiencing higher levels of psychological distress – and this is even higher among kids of color.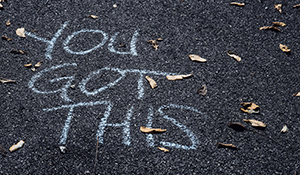 Backpack manufacturer, JanSport, created the #LightenTheLoad campaign to drive conversation among GenZ with its message that "if you're not sharing it, you're carrying it." The brand developed a host of tools, including videos, resources, podcasts, and mental health support for kids and teens. The goal of these efforts is to get kids comfortable with opening up about their feelings so that they feel less alone and, if necessary, seek help from a professional.
Colorado-Based Hope Foods Takes on Anxiety & Depression
This manufacturer of better-for-you foods is doing more than offering tasty snacks. Hope Foods created its "Have Hope" website, which features tools for self-care, guided breathwork modules, mindfulness exercises, and information on the brain-gut connection—all curated by a certified integrated nutrition health coach and a mental health first responder. Additionally, the content-rich site includes calming playlists, color therapy, yoga flow, creativity resources, and more. This is an example of a brand living its values, offering valuable content for consumers, and opening up a conversation around mental health that's both inviting and approachable.
Is your brand looking for creative ways to connect with consumers? Contact Inspira Marketing to discover how our insight-led strategies can guide your conversation.
{{cta('61004bdb-f2f4-4c7f-b7ea-e57bed292904′,'justifycenter')}}
---
Subscribe for more
Inspira news, insights, and white papers
"*" indicates required fields