Warriors For A Cure Raises Nearly $116,000 For Pediatric Cancer Research
By Bobby Johnson
November 22, 2016
NORWALK, CT ­– Warriors for a Cure is a Fairfield County team of mostly Wilton and Norwalk residents that has participated for the last four years in Alex's Million Mile Run, raising money to benefit Alex's Lemonade Stand Foundation and its pediatric cancer research work. Yesterday, Wednesday, Nov. 16, Warriors for a Cure team leaders Jeff Snyder and David Pennino presented a check for $115,822 to Jay Scott, the founder of Alex's Lemonade Stand.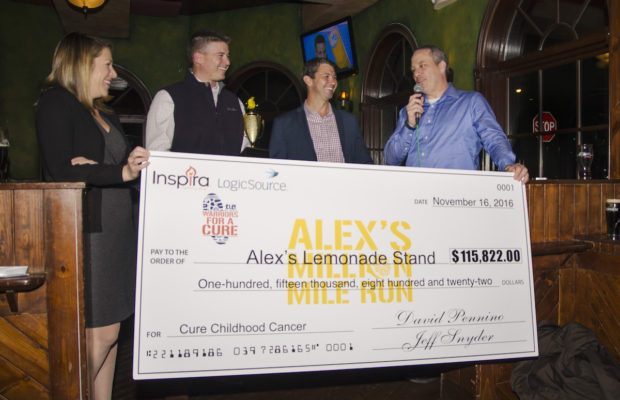 The Warriors' efforts helped the team succeeded in keeping its title as the event's Top National Fund-raiser for a fourth consecutive year.
Alex's Million Mile Run is an annual initiative held in September, National Childhood Cancer Awareness Month. The foundation's affiliated teams from around the country attempt to run, walk and ride a collective total of one million miles before the month is up to raise awareness and funds for pediatric cancer research.
Snyder, a Wilton resident who leads the Warriors for a Cure team, is the founder of Norwalk-based Inspira Marketing Group, which participates in the effort. He says he is blown away by how well the team did this year.
"As the father of a daughter who is battling this disease, I am overwhelmed by the amount support from the local community, friends, employees, and others who are committed to finding a cure for pediatric cancer. As a team, we thought we would never be able to surpass our fundraising total from last year, which was over $70,000. But this community continues to surprise us, and we're thrilled to have raised over $115,000 for pediatric cancer research."
Pennino's Norwalk-based company LogicSource, is also greatly involved in Warriors for a Cure's fundraising efforts.
"It's amazing to be part of a community that is so deeply involved and passionate about a great cause. I'm incredibly proud of LogicSource–my team was incredibly motivated in our fundraising efforts, from a Lemonade Stand outside the office to the many miles contributed to Warriors For a Cure. Alex's Million Mile continues to bring an outstanding amount of positivity and hope to our community and beyond," he says.
Scott, the founder of Alex's Lemonade Stand Foundation is always moved by how dedicated and committed the Wilton team is every year.
"I never cease to be amazed at what Warriors for a Cure is able to do. Every year I try to get my team to beat them, but I just can't keep up! While I'm so grateful for the amazing number of miles and donations they contribute, it is the people on this team that I find incredibly inspiring."
This year in total, participants tallied 1,030,962 miles as part of their efforts and $909,954 raised, 450+ teams participated.
As featured in Good Morning Wilton
---
Subscribe for more
Inspira news, insights, and white papers
"*" indicates required fields